About Us
Mission
The cultivation of Earth's natural bounty through human creativity.
Vision
A bountiful future through the integration of agriculture and technology.
Values
We work to create safe and easy-to-access food infrastructure for everyone.
We strive to create a sustainable society where future generations can attain peace of mind.
Food Infrastructure
Food is essential to human life.
At Spread, we ensure stable food supply through automated production,
efficient operations supported by IoT technology, and wide distribution network.
This requires not only economic viability, but also an ability to work in harmony with local cultures and customs,
and adjustment of production and distribution practices accordingly.
By interacting with diverse populations, we provide the essential value of safe, fresh and easily accessible food through our food infrastructure.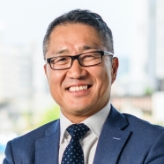 Message
Expanding possibilities by supporting world's food security
Shinji Inada, CEO
The Earth we inhabit faces many challenges, such as population growth, extreme weather causing water shortage and crop damage, all of which threaten food security of our population. From an environmental perspective, the impact on our health and nature from the overuse of pesticides and fertilizers, is also an issue we must consider. Thus, when we look in the future, it is difficult to imagine that conventional agriculture will be still capable of steadily providing food supply.
Food is the very foundation of our life, and the threats that our food supply faces at present are pretty much existential.
To address this, our team established Spread Co., Ltd. in 2006, with the vision of "creating a sustainable society where future generations can attain peace of mind". We believe that our mission is to build upon the wisdom of past agricultural methods, while creating new and innovative technologies, applicable for generations to come.
The first step in achieving our goals was the establishment of Kameoka Plant in 2007, in Kameoka City, Kyoto, which was one of the largest vertical farms in the world at the time*. Following six years of repeated trial and error, we established our unique cultivation and production control technology. In 2013 the plant reached profitability, a feat said to be difficult for large scale indoor vertical farms using artificial lighting.
As our next step in anticipation of the coming global expansion of vertical farming, our team developed the next generation food production system Techno Farm™. Techno Farm Keihanna, which began operations in 2018, was built as our flagship farm of Techno Farm™ within the Keihanna Science City in Kyoto. In 2021, our first partner farm, Techno Farm Narita began operations in Sanbu-gun, Chiba, by J Leaf Corporation, ENEOS Group. Nowadays, our lettuce is available to consumers at supermarkets nationwide under vertically farmed vegetable brand, Vegetus.
Our domestic daily production volume is projected to exceed 18 tons by 2024, and our expansion as well as contributions to society continue to accelerate.
As our business continues to expand, we simultaneously pledge commitment to mutually beneficial coexistence with conventional agriculture and local communities, reduction of produce waste and water usage, and improved productivity.
Our goal is a world where both producers and consumers are free from food anxiety. It is built upon food infrastructure indispensable to people, so that they can enjoy its bounty without distractions.
*By production volume, of 21,000 heads of lettuce per day
Company Information
Company Name

Spread Co., Ltd.

Address

KRP #6, 93 Chudojiawata-cho, Shimogyo-ku, Kyoto, Japan 600-8815

TEL

+81-75-326-3850

FAX

+81-75-326-3851

Established

January 5th, 2006

Fiscal Year End

September

Chief Executive Officer

Shinji Inada

Business Activities

Development, operation and management of vertical farms and sales of vertically farmed produce
Management Team
マネジメントチーム
Chief Executive Officer

Shinji Inada

Co-Founder

Chief Operating Officer

Toshiyuki Kuboyama

Head of Business Development

Chief Financial Officer

Masaki Kushiro

Head of Corporate Planning

Corporate Auditor

Hiroshi Uchida

 

General Manager of Research and Development Department

Tatsuro Nakamura

Head of Research and Development
Access
Corporate Headquarters

KRP #6, 93 Chudojiawata-cho, Shimogyo-ku, Kyoto, Japan 600-8815
 

■ By Public Transportation

・JR Tambaguchi Station, 10 minute walk to the west

Tokyo Office

FPG links KYOBASHI6F R615 2-7-8 Kyobashi, Chuo-ku, Tokyo, Japan 104-0031

■ By Public Transportation

・Tokyo Metro Ginza Line, Kyobashi Station, Exit No. 6, 2 minute walk

・JR Tokyo Station, Yaesu South Exit, 8 minute walk

Kameoka Plant

54 Kamata, Amarube-cho, Kameoka, Kyoto, Japan 621-0806

■ By Car

・Kyoto Jukan Expressway, Kameoka IC Exit

■ By Public Transportation

・JR Kameoka Station
By Bus: From Kameoka Ekimae, take either Keihan Kyoto Kotsu Bus 34 or 59 Line (Anaoji Mae/Anagawa via Undo Koen), or 40 Line (JR Sonobe Nishiguchi via Undo Koen). Exit at Kokudo Anagawa Bus Stop. Duration of bus ride approx. 10 minutes.
By Taxi: Approx. 10 minutes

Techno Farm Keihanna

9-5-5 Kizugawadai, Kizugawa, Kyoto, Japan 619-0225

■By Car

・Exit Keinawa Expressway at Seika Gakken IC, 5 minute drive

■By Public Transportation

・Kintetsu Line Hosono Station, or JR Hosono Station
Bus: Nara Kotsu Bus Lines 36, 46, 47 or 56
10 minute bus ride to Koen Higashi Dori
By Taxi: Approx. 10 minutes

・Kintetsu Keihanna Line, Gakken Nara Tomigaoka Station
Bus: Nara Kotsu Bus, Line 56
20 minute bus ride to Keihanna Kinen Koen, 10 minute walk
By Taxi: Approx. 10 minutes

Agriculture Sector Development Efforts
Restructured in March 2016 from the previous "Artificial Light Plant Factory Committee for Producers", the group has now developed into an industry coalition consisting of interested parties such as vertical farm operators, equipment manufacturers, and research universities. This organization works to support producers and promote the commercialization of vertical farms, for the advancement of the entire vertical farming industry. Spread is participating as an active vertical farm operator and contributor to the further development of the industry.